This is the place to view (and laugh at) all the stuff I've "produced" graphically (all the stuff I've managed to scan in and post so far, that is). Much of the stuff on here will require you to allow pop-ups in order to see larger versions of the images, FYI.

When I recently moved into my new bachelor pad, I had the occasion to revisit all the crap that had piled up for years, something of an archaeological expedition, and stumbled on a bunch of old stuff that had been buried in various strata. Among these is a comic I drew when an undergrad at Humboldt State University, in the sadly defunct "Cluster" program. Ah, those were <any number of expletives here> days. Here's proof I was there: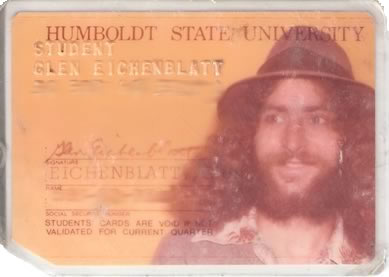 Hey, I spent a lot of time cultivating that look!
Anyway, Cluster was a way cool progressive program that got its students through all the General-Ed requirements via an interdisciplinary curriculum based on a single unifying concept each semester. The center of this program was "Colloquium" — a central gathering in a big ol' classroom in the "real" part of the school (the rest of the program operated out of two funky old houses on campus), where the main lectures and presentations for the whole group were held. The lectures were sometimes
something less than stimulating, hence ». In case it isn't abundantly clear, those white "4"-like shapes are supposed to be the goofy fold-up desktops so commonly found on bolted-to-the-floor torture chairs in old (and new? - it's certainly been quite a while since I've been in one) classrooms. The fuzziness in the foreground of the first frame is meant to be (and it actually looks a hellova lot like) the backs of the heads of me and Carrie, my then partner in crime. Another example of what I was doing instead of listening in Colloquium can be found by clicking .
Part of the Cluster program involved student-led classes. I decided to utilize my knowledge and love of underground comix to lead a class in that subject. Using the amazing text, appropriately entitled, "A History of Underground Comics", we studied... well, surely you can guess what. The final project for that class was
, a comic book filled with comics written, conceived and drawn by members of the class. The comic strip linked above appeared in Kluster Komix, as did many others from other students in the class, and the link to the comic book, above, shows the cover, drawn by yours truly. When viewing, please remember to cut me some slack - we're talking about these things coming to life in the late 70s, after all.
Nelgraphix was the name of my erstwhile "company" in Arcata California, which functioned, failingly, as an endeavor to eek out a living with a pen during lean times.
Here are some items related to that endeavor: " " is an ad/poster for Nelgraphix -- it was plastered all over Arcata for a while; and the masthead for the , for which I had the pleasure of being art director of for a couple of issues (I got canned for inserting a "writing" I had authored just before it went to press and without anyone
"approving" its insertion. That writing inspired some controversy beyond the editors of the Irregular -- apparently it didn't go down well with some of the more conservative members of the community the paper serves...
I also did the logos for two new record stores that stormed into Arcata to give my old boss at TRS (see below) a run for his money. was a pretty good store. was (and as far as I know, still is) a damned fine used and new record store with a great selection, and a very very knowledgeable owner/operator. In addition to the People's logo, I also designed signage and an Open/Closed sign that lived in the store for many years (but was gone last few times I was back up there).
See the "Mojos Posters" section, below for more Nelgraphix endeavors.
Also, during this period was the ever-turbulent relationship with the lovely Carrie Sue, for whom I hastily drew, one afternoon, the classic mini-strip that summarized my perspective on our relationship at that moment. It is entitled,
" ." (Hi-Res version)

Though I never did get paid for any of them (naive as I was in those days, and ever-so-trusting — the bastards that owned the place kept making promise after promise, and I, like a schmuck, kept believing and believing them), I did make a few dozen heavily distributed posters that were displayed on telephone poles, in stores, etc., all over Humboldt County. Mojos was a pretty cool club — THE club in Humboldt at that time — residing in what I vaguely remember to have been an old converted bowling alley — there was a restaurant, a performance space and a dance-floor. As I recall, the food was pretty good, and I may have even finagled a free meal or two in lieu of payment.
The posters were a fun project. I had a slew of really old Life, Look and Saturday Evening Post magazines that had the most wonderful retro imagery in them (at a time when Retro was at a high point, at least on the northcoast), so I cut those up and stole images from them, and added my own artwork and lettering, as you shall see, below. The Wild Child poster shown below, by the way, is scanned from the original artwork — the transfers made all the dark areas dead black in print (a little layout artist's trick), and the Mojos logo has obviously been lost.
All of this, incidentally, was WAY before computers, and so was done entirely by hand. Elements were collaged onto a paste-up board using wax (an ancient layout method - it acted like glue, but allowed you to easily pull an element up and reposition it), and I sure made a lot of use of Letraset letter and pattern sheets and tape! In those days, you used a special roller/pen-thingie on the backside of the lettering sheet, and the pressure caused the letters to transfer to the paper you're rubbing them onto. You had to line everything up by eye, and when you run out of e's (for example), you gotta go buy yourself another sheet!
Most of the posters were in 11x17 format. They were nothing, if not eye-catching, if I do say so myself.

The Record Store — Displays, Ads & More
During this same period, I became the manager of one of the two record stores in Eureka, CA. Here's a brilliant marketing scheme: hold a contest to see who can come up with the best name for the store. Give away fabulous prizes ("fabulous" is a relative term in Redwood Country). This is precisely what the owner did. Thousands of entries later, with pomp and circumstance, the great winning entry was revealed. So, I'm not really sure what this says about the quality of the entries, or the intelligence of the owner, but, incredibly, the winning name was: ...drum roll please... "The Record Store." I shit you not. of the storefront's main display window with "the Costume." Henceforth, I shall refer to the place as "TRS."
So, I became the manager of TRS Eureka (there was another store in Arcata), and was given more or less free reign to do what I would with advertising (print [see below] and radio), , , and so on. This was the late 70s, when the New Wave movement in music was in full swing, and us artsy-types sequestered deep behind the redwood curtain latched onto that thing with gusto. My store became "the spot" for every wild-natured person on the northcoast to come and listen to and purchase the music of the moment. Using Licorice Pizza as my model (I think I talk about the Licorice Pizza days on here somewhere), my store had a very comfy couch, and was a cozy place to sit and chat and listen to music.
As a side-note, and just because I want to tell it, here's a little tale of what life in those days was like: there was a back-room/studio upstairs in the back, where I made a loft and more or less lived for a while. I took my baths at the Eureka Hot Tubs a couple of blocks away in Old Town. I don't remember where I took my meals, but I assume I ate. My upstairs studio was where I painted, animated, listened to music, and danced flailingly whenever I had the opportunity. After living with lots of hippies for a long time, I ate the solitude up like a hungry wildebeest.
I also used the studio space for constructing work-related displays and signage. I had learned to do lettering at Licorice Pizza, and had developed a style of my own, which I employed for all the signs at TRS. I created some award-winning displays, including one for the B-52s (

for the cover teaser for the Brown Spot newsletter from our distributor, or for the article about it), and which featured what looked like a very strange woman sitting in a hot-pink chair, except that her torso (sans head) rotated (it was mounted on a turntable). I had a lot of fun.
What was also a whole lot of fun was designing our advertising campaigns. There was a print campaign and a radio campaign. I got to design, write, record and place all ads. One of these days, I'll find the tape of the radio spots and digitize some for posterity on here...
So, here are some examples of the newspaper ads:
Click

'em

for

LARGER

versions

Stuff for Harv
Some while ago, my old pal Harvey re-delivered into my possession a series of letters I had written him over the years, including some vaguely artistic items I will hereby chronicle.
Within a particularly dense package of materials, came an interesting, but more or less incomprehensible item consisting of a three page "story" — each page consists of three clear acetates sandwiched together, which, theoretically, should be "readable" independently. Here are the instructions that were attached to the manila envelope the thing came in (click image for jumbo version):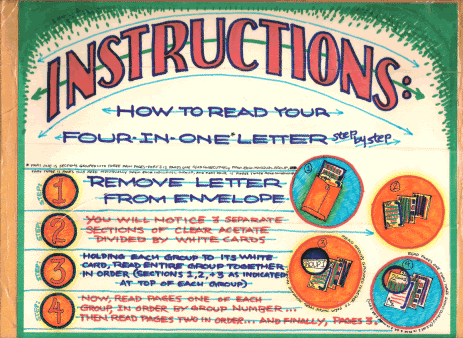 Great concept, weak material. If better thought out, and actually readable, it might be quite interesting, but... Oh well. It was fun.
Found in there, with frames scattered across three acetates, is this little comic strip I like to call, "The Story of Life." I think it speaks for itself:

Also found among these artifacts, which represent a regrettably lost period in which I actually invested a lot of effort into communicating with my friends, were "cells" from a couple of goofy little animation loops I made: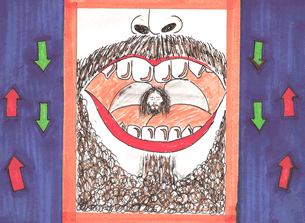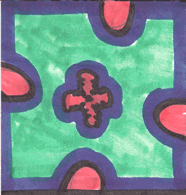 And then there were the legendary "LawThang™ Comix" - a mid- to late-80s labor of love and collaboration with the severely ingenious and deeply disturbed mind of my former colleague and good buddy, Rich Neimand (his body apparently having had nothing to do with it). had decided that Jacoby & Meyers's internal newsletter (cleverly mastheaded the "Consultation"), of which he was editor & designer, needed something to spice it up and decided that a comic strip would be just the ticket. We put our peculiar minds together and dreamt up the concept of LawThang™, mild mannered family law attorney and model citizen by day, punk rock legend-in-his-own-time and foiler of international conspiracies by night. The strip grew increasingly bizarre by the episode and was met with general incredulity by the Consultation's readership. To their credit, the partners (Len Jacoby, Steve Meyers [may he rest in peace], and Gail Koff [may she rest in peace]) were incredibly good sports, giving Rich and I complete free reign to put out a strip that had almost nothing whatsoever to do (beyond the occasional in-joke and reflections of the J&M logo here and there) with the firm. More likely, they never bothered to read it, otherwise, LawThang™ would undoubtedly have become history before it actually did become history.
The Plot (which, though obliquely contorted, somehow managed to thicken) had something to do variously with practicing family law, being a punk rock idol (Bob is lead singer/songwriter for "LawThang™ and the Habeas Corpuscles"), getting mixed up in a "nouvelle cuisine terrorist" plot, getting targeted as a bad influence on children everywhere by MAIM (Mothers Against Intelligent Music, headed up by Tipper Spore), who in turn was associated with the nefarious Ayatola of CocoCola (otherwise know as the "AyaColaSM," whose jihad goal was the imposition upon the world of a single soft-drink standard), an exploding Kiwi-Fruit Frappe, the focus of media attention on our hero Bob as generated by WPU-TV Reporter Brenda Scar (who instantly becomes LawThang™'s love interest), a legendary benefit rock concert called "Alimony International," and Bob's enlistment of the assistance of a Superb Court Justice whose semi-secret super-identity moniker is "Wrenchkissed Man."
Along the way, the erstwhile Bob Thang finds himself managing his practice, directing commercials for his law firm, performing at rock festivals, falling in love, and selling ThangThings™, all while fighting a very odd international conspiracy involving a loosely-knit consortium of wives of then senators, "Pastafarians," MAIM Hit-Mothers and the Ayacola® himself. Oy Vey!
The strip was interrupted twice: once because of my (first) , and once to make way for the spectacular " " (the Shamelessly Capitalistic Holiday) Edition, which features Bob and his trusty secretary, Morgana De Tiempo selling everything from Briefcase Cookie Cutters to 100% Combed Polyester "Legal Briefs™."
The Strips:
Sadly, we shall never learn whether or not Bob Thang & Billy Wrenchkissed manage to rescue Brenda Scar and save the world from maniacal non-monounsaturated belief systems. Will LawThang™ emerge triumphant against his hideous and insidious foes? Unfortunately, we cannot say "tune in next time for the continuing adventures of..." — because circumstances beyond our control led to the untimely demise of the strip. Doubtless, this was due to an or various annoyingly non-adolescent circumstance(s), such as actually having to do some work, or getting "let go," or having to finish grad school, or whatever. That's life, eh?

This series is from Anal & Nasal Retentive Ramblings, a notebook filled with grid-paper I created for the love of Carrie Sue, during my first years in New York City (early 80s). It's a more or less sequential tale of the various city tribulations I was enduring during the NYC Angst period.

I'm slowly (but surely) going through and scanning all this old crap I found — there is so much more along these lines, but, as I say, I'll add them as I can.